Craft a beautiful resume that stands out amongst the crowd.
Whether you're applying to college, looking for your first job, or a seasoned veteran looking for a change, this post can help you to create the perfect resume that helps you to stand out amongst the pack.
What is a Resume?
Simply put, a resume is a formal document that shows a person's career background and skills. In most cases, it's created to help a candidate land a job.
What's Your Resume Look Like?
My most recent resume, used to apply for a tech art residency at the Tacoma Museum of Glass. I just felt that it would be weird to write a post about resumes without putting mine out there.
I do make a separate resume for every single application and I would urge you to do the same.
Why Should You Listen to Me?
I'm a senior manager at Amazon in one of the most coveted tech departments (Machine Learning and AI at the company. I look through hundreds of resumes a week and generally only pass 2-4% of them to a phone screen. The average time I spend on 100 resumes is < 30 minutes. I would say that I am an expert on screening resumes.
Additionally, I've gone through academic and industry applications, recruiting processes, and hiring blitzes on both sides of the aisle. I've won dozens of awards, fellowships, and academic prizes as well as being offered numerous jobs (though these also require interviews!). I've worked with resume coaches at companies such as MBA mission, Intel, and Amazon to gain a wealth of overall knowledge.
If all that suffices for you, read on!
What Makes a Perfect Resume?
Here's some framing to get you started.
Your resume is NOT for you. A lot of people make the mistake of writing their resume for themself. Don't craft your resume to give yourself that pat on the back you've been wanting for the last 5 years. Whether you're applying to college or to become the VP of a Fortune 500 Company, your resume is for the person on the other end. And that person sees HUNDREDS of resumes. They don't have time to understand the nuances of every small thing you did. They, quite honestly, don't care. They just want to know if you meet the criteria to get past this round.
Your resume is a guide. You're not writing a Tale of Two Cities, you're writing the Cliff's Notes. Put the applicable skills front and center. The average resume gets 10-15 seconds of air time. Your reader needs to be able to see everything they want for the job during that time and then choose to spend 2-3 more minutes perusing your resume for supporting details.
Key Information needs to Stand Out. Use formatting to ensure that the skills and experience you have that are most applicable to this role (and NOT the best things about you as rated by you) absolutely stand out. Offset them with typesetting, spacing, and arrange in order of layout for presentation. Often I'll just look at someone's skills to see if they have the job relevant ones, and only if I can find them quickly do I even both to read about their education, awards, and experience.
Be Unique and Specific to Job. Each job has it's own requirements. Submitting the same resume for all of them is LAZY and will be judged as such. Put the time in yourself so the hiring manager doesn't have to. For example, you might be applying for jobs in analytics, program management, and people management. Take your skills section and move the most relevant skill to the top, front and center! Rearrange the bullets of former jobs to highlight the specific aspects of these in order. It's not rocket science, but a little effort goes a long way here.
Be Unique and Specific to You. All that said, try and capture what's unique and specific about you and your work in the 2-3 minute version. Your goal is to use points 1-4 to extend the recruiter or manager's 10-20 second glance into 2 minutes. Then, the 2 minute version should be super impactful. Describe your work in bullets being concrete but highlighting work that makes you unique. Call out your extra curricular activities and skills. List all your awards, publications, and patents. I've gotten more than 1 job based on my hobbies of surfing, judo, and rugby.
So, that said, what are the rough guidelines for a good resume?
Length: Keep your resume to 1-2 pages. Make it complete and full. Try to stick it to 1 page, but if you bleed over, try and fill out the second page as much as you're able.
Look: A stand-out resume will get you a few more seconds, which makes all the difference. You want your resume to be different but not jarring. I find the best way to do this is by making your resume in LaTeX (use overleaf!) with a good template. Everyone uses Word or google docs, so their resumes all look the same. Learn a little mark-up! Some templates are given below.
Readability: This is SUPER important. Layout your resume so that all information required for this job is SUPER easy to find. Use layout, font, and style to highlight important information.
Word Choice: Wherever possible, consolidate. Use numbers and not fluffy words. Replace all adjectives with numbers. Turn 2 bullets into 1. Minor job change? Put the title together with the last. Remember, this resume is NOT for you.
Examples
Examples are my favorite. They help make a little of this concrete. Let's look at one specific resume that I pulled from a random site on the internet.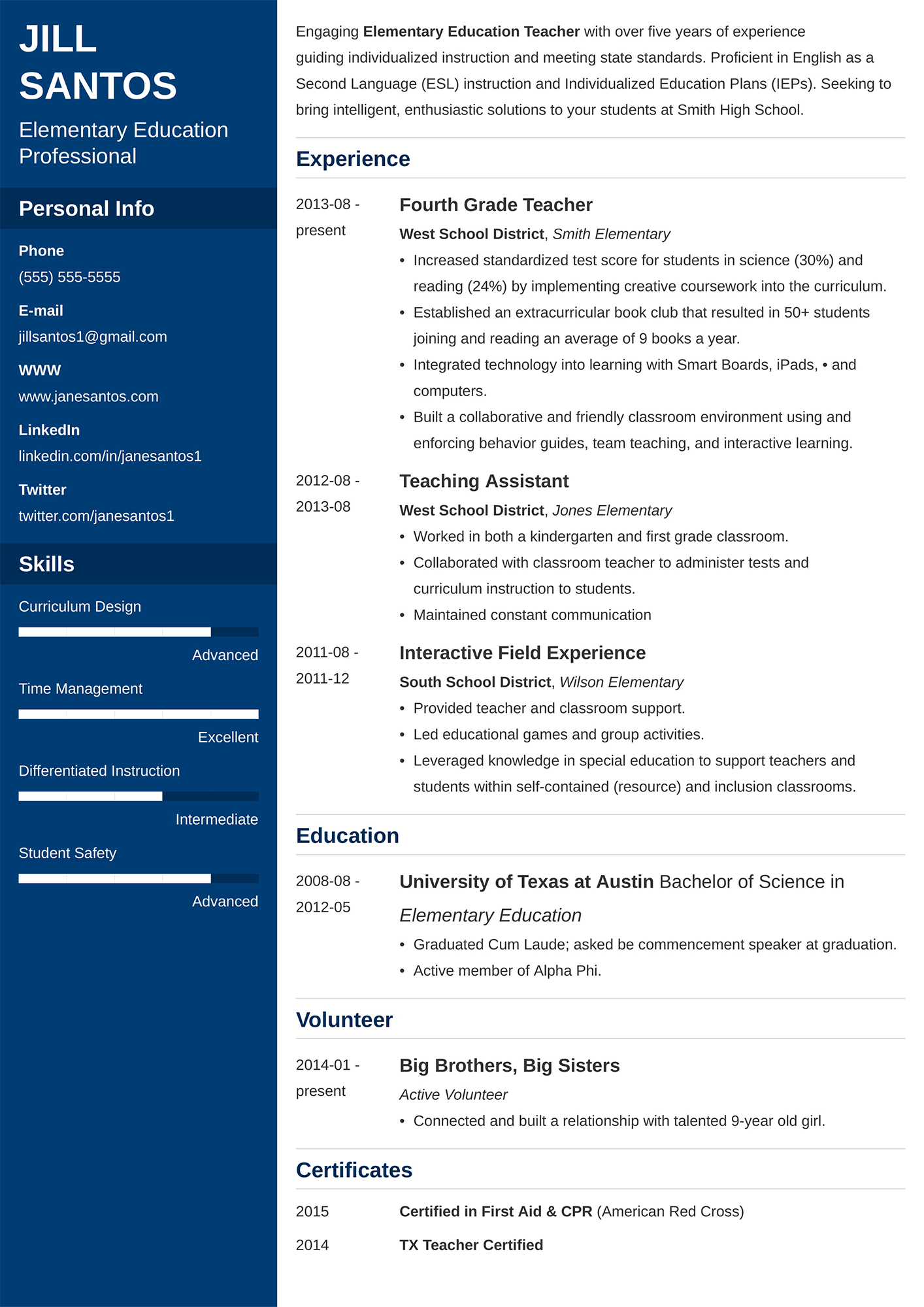 Admittedly, this resume is not bad!! It's extremely readable and puts skills and experience front and center. It's not overly busy, which makes it stand out in a crowd – almost a breath of fresh air for someone scanning tons of resumes in a row. It also clearly states Jill's objectives, background, and skills. However, even a great resume has room for improvement (if I chose a crappy resume, this wouldn't be very helpful).
I marked up a copy below, and I can elaborate (good and bad) on each numerical point. The points are numbered in the same order as how my eye would traverse this resume.
Compression and Ease – There's no reason for the title to be separate from the item. The link IS the item, so just choose one and list it. Otherwise I'm unclear which to click. This frees some space on the page (which she doesn't need but could use, see #2 below), but also makes it EASIER for your reader to intuitively know what to do with information.
Clarity and Concreteness – I LOVE the formatting of this, but it's kind of information free. No one is going to put that they're bad at time management and I'm not sure what any of these topics actually mean in terms of skills. What I'd love to see is a list of items that show me how this is true and make concrete the skills Jill has at the same time. By freeing up some space in #1, Jill can stretch these out a bit without making her resume busy. For example… underneath each header and her self-ranking, just adding a line with 2-3 items that give skill examples.
Differentiated Instruction – Group Work, Socratic Method, Multi-Lingual
Student Safety – Mediation, Negotiation, First Aid, CPR
Writing Clarity and Impact – Jill should use numerals (since they stand out to the eye) and avoid a lot of the fluff that she has in here. Don't use or define acronyms unless you're going to use them again (which she doesn't). Don't restate things on your resume. She cites variants of differentiated instruction 3 separate times in boxes 1-3, which is overkill. Prune it down. Repetition makes it feel as if you don't have anything else to say. If I were to rewrite this, it would be minor but terser and bolder to a viewer:
"Engaging Elementary Education Teacher with 5+ years experience meeting state standards through proficiency in English as a Second Language Instruction and Individualized Education Plans. Seeking to elevate teaching by bringing intelligent, enthusiastic solutions to the students of Smith High School."
Formatting – This formatting is rough. It's not easy to parse, there are too many -'s and line breaks. She could either make this column wider to fit everything on one line, nix the dash between lines (the linebreak implies start and end dates), or change the formatting to words (e.g., Aug 2013). Especially under education… the date formatting make my eyes bleed.
Formatting – Conversely, I LOVE this formatting. It's easy to read and the linebreaks and typesetting are perfect.
Word Choice and Impact – Jill's first bullet in this section is great, but the remainder is not crafted to let me know about impact. A resume should be written to illustrate how and why you are uniquely good at your job/position, but these are information free. For example, if bullet 2 said
"Established a book club that increased student reading by 9 books a year (400%) across 50+ students."
This gives me an idea of impact (just the 400%) along with just the numbers. Similarly, the line about integrating technology gives me no idea of why it was difficult, what Jill actually did, what the impact was, etc. I think something like the following would be more impactful.
"Integrated technology such as iPads and computers to over 120+ students, increasing learning rate by over 20% from 2013 to 2014."
Word Choice and Impact – Same here. These are completely information free. You would write the exact same thing as any assistant teacher anywhere. Why is Jill good or better? Bullet #3 in particular bothers me. Constant communication with who and why? I can just stand in the middle of a room and yell everything I'm thinking, that would also fit the mold for this bullet.
Formatting – The line bleed over in "Bachelor of Science in Elementary Education" makes me want to scream. Start a new line at the beginning of this! Elementary Education in Italics already offsets it. It would look great with the whole degree on a new line.
Word Choice and Impact – Sorry, I'm not sure what you did here. What does it mean to "build a relationship"? How and why is she talented and how have you helped open doors for her to realize her talent. If you've not done anything good with this, don't put a bullet. But if you have, articulate how and why.
Templates
CHOOSE A GOOD ONE! Here are some nice LaTeX examples 🙂
https://www.overleaf.com/articles/anurags-resume/jdfqhmhqzbxv
Super clean with beautiful highlights and offsets for important information. Extremely easy to parse visually.
https://www.overleaf.com/latex/templates/recreating-business-insiders-cv-of-marissa-mayer/gtqfpbwncfvp
While the content on this example is a bit "weird", the layout is beautiful. Visually, I can find anything I need pretty much immediately.
[Note: I omit the photo. I think it's weird to put a photo on a resume. It introduces an odd bias]
https://www.overleaf.com/articles/mejri-mohamed-habibs-cv/rmsxgyysttwm
Love the skills down the left side. Not a huge fan of the colored pie chart, but that can be omitted.
https://www.overleaf.com/latex/templates/adaptive-cv/vfngmmqpmmsb
Similar to mine, but not a huge fan of the header.
https://www.overleaf.com/articles/odilia-almeidas-cv/yfqgvkrnjygs
Simple, classic, easy.