By far and away the best deal in domestic travel is the Southwest Companion Pass. Want your partner to fly free with you on every flight or vice versa?!
I was 30 before I heard about the Southwest Companion pass, which is many years too late. I'm hoping to help you avoid the same fate.
I found out about Companion Pass because of work travel; I was doing so much expensive and last minute domestic travel that I finally started loading my Southwest card into my work reservations. I downloaded the app and "Woah!" found out I was not that far off from getting Companion Pass status. I didn't know what this meant, so I'm going to break it down for you.
What is Companion Pass?
The Companion Pass is a Southwest Status Tier and is a qualifying benefit that allows one person to fly with you COMPLETELY FREE (except for the $5.60 taxes and fees associated with each one-way flight). The magic is that this is true whether you book with money OR WITH POINTS. If you have Companion Pass, then you have had to accrue tens if not hundreds of thousands of Southwest points. This means you and your companion will now both be traveling completely free (except the $11.20 round trip fees). Woah! That's huge. That changes the entire landscape of travel.
Additionally, Companion Pass applies for the remainder of the qualifying year AND the following full calendar year. So, if you quality in June 2020, you'll have Companion Pass until December 31, 2021.
There are actually three tiers of Southwest benefits, but they're not dependent on each other. You do NOT need A-List or A-List Preferred status in order to get Companion Pass. They don't count credit card spend, so if this is your main method of accrual, it becomes difficult. Don't set your sights on them, but in case you're interested, here's what they get you:
| | | | |
| --- | --- | --- | --- |
| | A-List | A-List Preferred | Companion Pass |
| Priority Boarding | X | X | |
| Bonus Points | +25% | +100% | |
| Same Day Stand-By | X | X | |
| Priority Check-In and Security Access | X | X | |
| Dedicated Phone Line | X | X | |
| Free In-Flight Wifi | | X | |
| Free Travel for Your Companion | | | X |
List of Southwest Tiers and What Privileges They Hold
In addition to the above, if you have A-List or A-List preferred Southwest will just mail you a whole bunch of free drink coupons from time to time. That's pretty nice.
Note that Companion Pass doesn't have the added privileges of other tiers. Some are more valuable than others. I obviously have something to say about some of these privileges, so here goes:
Priority Boarding – Is actually really nice! Since Southwest doesn't assign seats, priority boarding ensures you'll board first. A1-15 is reserved for those that pay for the priority boarding upgrade. A16-60 are allocated for those with status based priority boarding (A-list or higher). And, in the unlikely scenario that >60 A-listers are on the flight, Southwest actually holds boarding after the A-group for any (and also families traveling with small children, etc.). Finally, as an A-lister, Southwest allocates this for you automatically; it removes the rush to check in at that 24H advance mark.
Bonus Points – Also awesome. The bonus points help you accrue status faster and also contribute to future free trips. If you can get Companion without them though, they're fairly unnecessary.
Same Day Stand By – I use this more than I should. There are two big benefits to this one:

Earlier Flying – If you get to the airport early, you can either ask someone at check-in or at the gate to fly stand-by on the earlier flight. If it's not fully, you're in! This is nice if you got to the airport early with friends or you were cheap and booked a cheaper late night flight. Just show up early and see if they'll swap you! You can even check online in advance to see if there are still empty seats you could buy. If so, good chance you're getting on that flight stand-by!
Missed Flights – This is the big one. Every accidentally missed a flight? If you show up to the airport within 45 minutes of your scheduled departure time, Southwest will route you on the next flight FOR FREE. It's amazing. You can also call them and, if the person on the phone is in a good mood, they might switch it on the call for you. I've actually done this when I have a SUPER early flight and I realize there's nothing on the other end I'm rushing to get to.

Priority Check-In and Security – This one is stupid… who cares?! First, long gone are the days when you have to wait in a long line at Southwest to check a bag. It's all kiosk now, which means there's no line for anyone anyway. And Security?! Don't get me started. You get to "skip" the long line, but sometimes the privilege line is just as long! And then you still have to mess with computers, shoes, other people who don't know how to navigate the security line. F that noise. Don't be cheap… it's MUCH better to have a TSA Pre-Check or Clear. Pre-Check is $85 and lasts 5 whole years. Just do it. This privilege is antiquated.
Dedicated Phone Line – I don't really care for this either. The vast majority of what you need to do can be done online. However, on the rare occasion that you need it, it's a nice service.
Free In-Flight Wifi – Meh. Southwest offers free messaging and free entertainment, so you really only need wifi if you want to do work. But the wifi is too slow to do work, so all it winds up doing is infuriating you. Just write all your emails on the flight and send them on the free airport wifi when you touch down. It's WAAAAAY less irritating.
How to Qualify
To qualify, you need to fly 100 qualifying one-way flights or earn 125,000 qualifying points in a calendar year.
A qualifying one-way flight is any uni-directional flight that's booked all at once. If you take a round trip flight, Southwest considers this 2 qualifying one-way flights. If you book a flight from Reno to Dallas and stop through Denver on the same booking, this is just a one-way. You can probably tell that there are already ways to exploit this, but
Qualifying points are earned from revenue flights booked through Southwest, points earned on Southwest Rapid Rewards Credit Cards, and base points earned from Rapid Rewards partners. I'll get into how this works in a bit more detail below, but it basically boils down to this: more expensive Southwest flights, Southwest Credit Card spending, and partner programs are gonna help you. The full rundown can be found in the fine print on the bottom of this page.
If you meet the criteria, you earn Companion Pass for the remainder of the current year AND the following full calendar year. So, if you quality in June 2020, you'll have Companion Pass until December 31, 2021. Awesome! 
So, how can I get Companion Pass?
Without flying a lot, it's difficult to get the companion pass. Fear not! Here are some tips:
Sign up on January 1st! You heard me. Your New Year's Resolution this year is to travel more and for that you're gonna need a Companion Pass. If you have any big purchases (a couch, new TV, etc.) that you want for yourself and your family, hold off until AFTER Christmas and your new Southwest Card comes in. You'll need to spend some money to get all the sign-up bonus miles! If you have a partner, you both love to travel, and have enough trust to share money, then decide who will be primary and who will be companion and just both exclusively use one card until you've reached bonus points and Companion status.
Every year on January 1st your qualifying points will set back to 0. This is the perfect time to get as many bonus points as possible:
The earlier you qualify in the year, the longer you'll have Companion for the remainder of the year and the nest.
The earlier you start accruing points, the longer you'll have to try and hit companion.
So, which credit card to sign up for? My guess is that you're going to want a Personal (and not Business) card, since the vast majority of us don't own their own businesses. Just a note, don't try to sign up for more than one personal card and link them both to your account. That won't work.
Recommended Personal Cards
There are 3 options, but I actually just recommend the base Southwest Rapid Rewards Plus Credit Card. This card costs $69 per year and will give you up to 80,000 bonus points, 64% of your way to Companion Pass! You'll earn 50,000 points after you spend $2,000 on purchases in the first 3 months and an additional 30,000 points after you spend $10,000 on purchases in the first 9 months.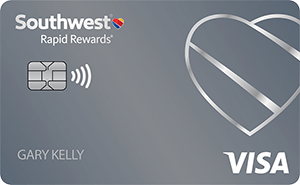 The other two cards are the Southwest Rapid Rewards® Priority Credit Card ($149 per year) and the Southwest Rapid Rewards® Premiere Credit Card ($99 per year). Some sites will tell you that these are worth it, but (IMO) they are not. They cost more money each year, which gets old. They still only offer the base 80,000 points and no more. They try to make up for it with things like priority boarding, $75 travel vouchers, and reduced price drinks, things you will likely not need as your points will more than cover the costs of travel and you'll probably qualify for A-List, which gets you most for free anyway. Don't forfeit an extra $50-$100 per year on nothing.
Tip #2 – Work Travel
The vast majority of corporations allow you to choose your airlines and ALSO are liberal enough to allow you to accrue. This was true of literally every company I've worked for: Intel, Amazon, Kaplan, UC San Diego, etc. So, when you sign up for your work benefits be sure to load your Southwest Rapid Rewards Number and then try to book all possible flights on Southwest. Business travel is often more last minute and most companies prefer Southwest anyway (Intel did) because there's no cancel or change fee. Last minute flights mean they're a bit more expensive, which also means more mileage accrued!
Tip #3 – Sign Up for ALL the Promotions
Look in your account and you'll find them. Just login and head to your main account. There are three main types of promotions.
Bonus Point Promotions
Either access your promotions directly via this link or scroll all the way down to below your flights in the left hand column. There you'll find the "My Promotions" section. You should ALWAYS register for all available promotions. The worst it gets you is nothing, which is exactly where you are now. In any case, click the "Register" button for any one of them and the promotion pops up where you'll have to click register again.
Either that or head to the all promotions page and register for each one then and there.
Sign up and Save Promotions
You should subscribe to this even though most of it is junk, because sometimes they do send you AMAZING discounts or, more importantly, mileage promotions for a flight booking that you won't want to miss. If it's "take any flight and get 5000 bonus points," I'll hop a $39 flight from PHX to LAX and back again just for the points. It pays for itself.
Finally – Keep Your Eyes Peeled!
Southwest frequently runs Companion Pass Promotions, usually in September – December during holiday travel, trying to squeeze a few more flights out of people during peak travel time. Also, they realize that others are using the tips above, and so try to bump their own credit card, etc. revenue during this time. A couple examples:
How to Assign a Southwest Companion
It's super easy. Login to your account at Southwest and, if you've qualified for companion, it'll show on the right hand column of the page with your status. There will be a link that says, "Assign Companion". Here you'll be able to enter your companion's information. You'll need everything you would normally have to book them a flight. And, if they have a TSA pre-check number, best to add it now as it'll apply automatically each time you add them. Alternatively, you can call Southwest Customer service and they'll do this for you if you're old school.
If you're goofing off on the Southwest website and just got Companion Pass, don't just test this one out. Know who your companion is before you add them, as Southwest allows you to designate a companion pass 3x in a calendar year, but that's really switching companions twice. If you add your best friend, switch to your partner, and then switch back, that counts as all 3 designees! So be careful and try not to abuse this privilege or else you can accidentally wind up with the wrong full year companion!
How to Use Southwest Companion
It's super easy once you have it. Simply log into your account and book a flight. Wait a minute or 2 for everything to propagate, then head over to your main account page. The left hand column will show all your upcoming flights and in the bottom right corner of each will be a link to "Add Companion". Click this link and it will automatically add all your companion info. Pay your $5.60 per flight and you're all done.
Happy Flying!